Valentine's Day is just around the corner, meaning that grocery and department stores will be pulling out the old classics soon – heart-shaped chocolate boxes, red roses and piles of plush teddy bears. Even though we show our love and appreciation daily to our loved ones, there is something about Valentine's Day that makes it even more extra special and romantic!
Go the extra mile this Valentine's Day to show your loved ones exactly how much they mean to you, by being extra creative. Here are some of the best Valentine's Day deals for 2021 including gifts, games and even online courses that you can do together. Whether you are looking for something a little more extravagant or something more laid back, we have everything you need to WOW that special someone this Valentine's Day.
Valentine's Day Food Deals
Want extra points? Then, pair any of these options with a bouquet of flowers or a bottle of wine to commemorate this special day together.
Knipschildt Heart-Shaped Chocolate Box
The tradition of a heart-shaped box of chocolates on Valentine's Day has become a mandate. Just because this tradition is commonplace, it doesn't have to be boring. Knipschildt are not your ordinary, everyday chocolates. They have been, consecutively, named as one of the top three truffles in the world, year after year.
Heart-Shaped Fresh Bagels
Share your love of bagels with the love of your life, this February 14. Einstein Bros. Bagels has a Valentines deal that can't be missed, such as a box of your Valentine's favorite bagels in a romantic heart shape. Just stop by your neighborhood Einstein Bros. Bagels' shoppe to place your order.
Tuscany Wine Tasting Set
Travel plans cancelled due to the pandemic? Give your sweetheart a preview of your future trip to Tuscany, together with a trio of the best wines from that region. This thoughtful gift will surely impress the love of your life.
Valentine's Day Deals on DIY Kits
Make February 14 extra special this year, by giving a gift that will bring you and your special person even closer together. DIY kits are a wonderful way to spend time together while learning how to do something new.
Make Your Own Chocolate Truffles
This is one of those Valentine's Day specials that can't be passed up. The DIY kit comes with everything you need to make together, your very own scrumptious dark chocolate truffles from scratch to finish.
IPA Craft Beer Kit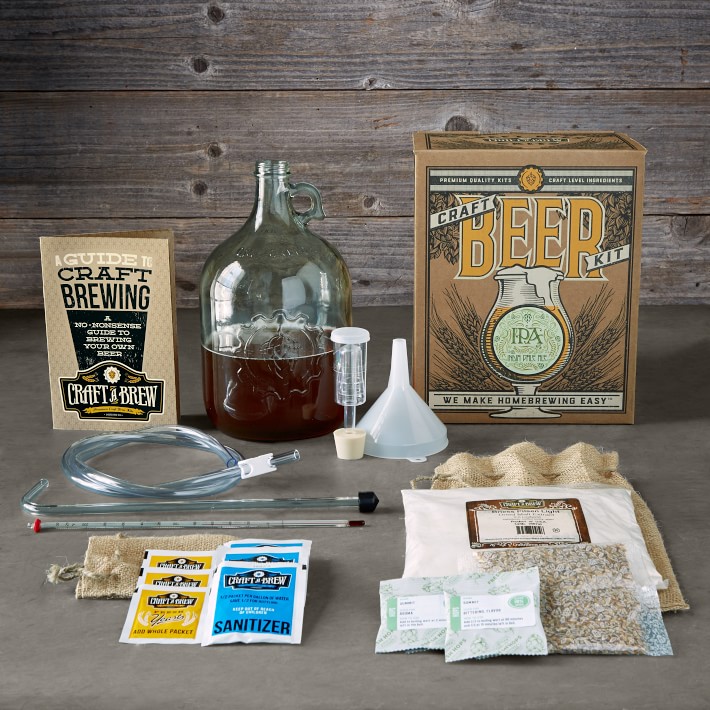 Brew together, at home, your very own Indian Pale Ale (IPA) with this easy-to-follow kit which includes everything you need to make your first batch. If beer isn't you sweetheart's thing, check out Williams Sonoma for their huge DIY collection from Gin-making kits to fortune-cookie kits.
Bake Homemade Sourdough Bread
Nothing quite compares to waking up to the smell of fresh bread in the oven. Surprise your Valentine this year by making her or him a loaf of fresh, homemade sourdough bread. It will be a Valentine gift they will never forget.
This Valentine's Give the Gift of Comfort
Looking for the perfect Valentine's Day gift? Look outside of the box this year by gifting your sweetheart something she will love to wear every day. The last year has been particularly toiling on everyone, so give a gift that will help her relax and unwind.
Ultimate Loungewear – the Camisole
The ultimate gift for the woman in your life is the gift of comfort. Trust us, she will be thanking you daily for this ultra-comfortable camisole which is ideal for relaxing on the couch or taking the dog for a walk around the block.
Sherpa Blanket Sweatshirt
Thanks to Valentine's Day specials, such as this one, your sweetheart won't have to worry about catching a chill when she is all snuggled up in this Sherpa-lined sweatshirt. Plus, it will stop her from hogging your blanket.
Stylish as Comfortable Wireless Bra
Instead of gifting uncomfortable lingerie that your better-half will only wear once or twice a year, gift her a bra that she will actually love to wear day-after-day. True Kind has great Valentine's Days specials on all of their bras, so be sure to order more than one.
Unique Valentine's Day Gift Ideas for Everyone in Your Life
Valentine's Day traditionally revolved around romantic partners. But this year, use the holiday as an opportunity to share your love to your family, children and friends. Here are some of the best Valentine's Day's deals for everybody on your list.
A Cake Perfect for Sharing
Your loved ones will thank you for this perfect-sized cake as it is just enough for tasting without a full-on sugar load. Also, a slice of cake is the ideal excuse to draw your loved ones closer together. You just might need to make some hot chocolate to go with this yummy cake.
Best Ideas for an Extra Special Valentine's Day
Searching for Valentine's Day deals can be so exhausting, that we often forget that the smaller details often don't cost a cent. Here are some ideas to make this the most over-the-top February 14 ever!
Go camping indoors
Twinkle lights are a must to help to create a romantic atmosphere. Date night and a movie under an actual tent is a wonderful idea, or use a few large sheets attached to the lights to create a tent.
Why not do a Zoom cooking class together?
Get dressed up and spend time together this Valentine's Day by learning a new skill together. On Cozymeal, there are cooking classes for everyone's interest and many offer free introductory classes. If cooking isn't your thing, look for online Zoom classes that teach massage, painting, dancing, mixology and so much more.
Movie night
Take movie night to a whole new level by creating your own home cinema. Rent a projector or use your big TV screen and comfy chairs to snuggle in. Don't forget to add lots of extra blankets, pillows and of course, candles. Also, don't forget the popcorn and your partner's favorite movie, because it's all about them.